How mature is your organization in its approach to enterprise peer reviews? And if you're looking to move to the next level, what are the characteristics of vendors who are already there?
As the market for enterprise peer reviews has evolved, until now, there has been no easy way for a vendor to benchmark its approach, nor to easily identify what it would take to move engagement to the next level – using the maturity of another vendor's activities as a benchmark.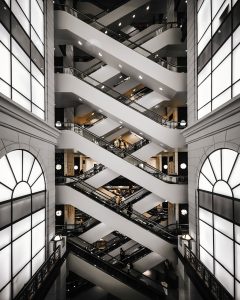 That's why we are introducing the Destrier Maturity Model for Enterprise Peer Reviews. This model is the new north star for vendors looking to take their enterprise peer reviews program to the next level. Developed in consultation with the review sites, the maturity model enables vendors to assess their program's current effectiveness – and makes it simple to see what is needed to reach the next level of engagement.
Enterprise peer review sites are becoming firmly established as part of the enterprise buyer ecosystem. Gartner Peer Insights, the youngest of the so-called "big four" players, turns five years old in November, while trailblazer IT Central Station launched eight years ago this month.
Vendors programs must keep pace with the maturing review market
As the reviews market continues to develop, vendors must keep moving to improve rankings and more deeply leverage the growing depth of sales and marketing insight available, which ranges from buyer sentiment to the search for quotable quotes.
As highlighted in our maturity model, vendors at the highest engagement levels appreciate the third-party insight and treat reviews as a strategically important differentiator. They are curating a growing library of customer success stories and taking advantage of a unique new opportunity to listen to the voice of the customer.
However – and this might be a surprise for anyone who has gone down the rabbit hole – there are still some vendors that have resisted the opportunity to embrace peer reviews.
The fact that some vendors haven't figured it out is clear just by looking at their reviews – or the lack of them. Some vendors are underperforming despite the emergence in 2020 of some compelling reasons why they really should be engaging by now – for example, G2 passing one million reviews, and Gartner cutting all vendor-provided references for Magic Quadrants in favor of Peer Insights.
Although the consensus is that the occasional dud review helps lend review sites some valuable credibility (in fact, IT Central boss Russell Rothstein argues that any vendor with only five-star reviews is not just unrealistic but actually toxic), some vendors have still not acted on scathing criticism in reviews.
Duck and cover is not a strategy
Duck and cover was never a strategy, nor is it an option any longer. The "do something" could be a formal response, a request to the review site to take down or edit a review on the grounds that it was incorrect, or an initiative to generate better reviews.
Vendors still on the fence should also note how COVID-19 has boosted fortunes for the enterprise review sites. Faced by the loss of in-person interaction with customers and prospects at events, vendors turn to high-profile online engagement mechanisms. Consequently, TrustRadius last week reported Q2 revenues that were 164% above target, G2 is "ahead of our revenue plan" and IT Central Station has enjoyed a record year to date.
As vendors enter their budget planning cycle for the next fiscal year, they should plan further, deeper engagement with enterprise peer reviews. The sites themselves suggest that enterprises should budget $150,000 plus, but you can make a strong start for a third of that.
Two key questions keep coming up
Enterprises exploring enterprise peer reviews ask us two key questions:
How are we doing in comparison to our competitors?
What do we need to do to take our program to the next level?
The answer to number one is straightforward: Read the reviews! Gartner Peer Insights includes Customers' Choice distinctions for up to seven vendors, per category – while both G2 and TrustRadius have comparative grids, allowing vendors to map their performance versus competitors. The TrustRadius TrustMap makes it possible to zoom in on either mid-size companies or enterprises or look at the homogenized landscape. G2's Grid goes further, allowing a choice of viewing rankings for on-premises or cloud deployments for software – while its trending grid provides an up to date look at vendors moving up or down the rankings.
Introducing the Maturity Model for Enterprise Peer Reviews
Our answer to the second question is the Destrier Maturity Model for Enterprise Peer Reviews. This provides a roadmap for vendors on what it takes to move further ahead – not just in constantly looking to improve rankings, but also in more deeply leveraging the growing depth of sales and marketing insight available, ranging from buyer sentiment to the search for quotable quotes.
The Maturity Model for Enterprise Peer Reviews is available immediately via a subscription model, providing access to our enterprise peer reviews research, data and expertise, including inquiries. If you'd like to know more, click here for an email contact form or here to book a call.