One of the few remaining independent analyst firms in Germany, Crisp Research, is to become part of Cloudflight, a new IT services provider focusing on digitalization and cloud-based transformation.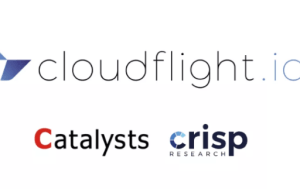 Crisp and Austrian-headquartered custom software development firm Catalysts are merging in a deal announced earlier today – see investor announcement. The deal is subject to regulatory authority approval.
The tie-up will give customers access to end-to-end advisory and systems integration from a single shop – starting with Crisp's support in determining the business model, finding the right platform and providing technology advisory, then shifting over to Catalyst's role in driving innovation and systems integration. With a team of "350 cloud computing experts to provide a comprehensive service to clients", Cloudflight is bullish about its value proposition – saying its portfolio will "encompass strategic advice on all things digital, platform and architecture design, software development, as well as 24/7 cloud operations".
The majority stakeholder is a private equity firm
German private equity firm Deutsche Beteiligungs AG (DBAG) has acquired a majority stake in both companies. Since the tie-up is mainly funded by a DBAG managed private equity fund, full financial details are under wraps, but sources close to the companies talk of a value of around EUR 100m.
Crisp Research is one of the remaining independent analyst firms based in Germany. Founded five years ago by former Experton analysts Steve Janata and Dr. Carlo Velten, the firm currently employs 16 analysts and consultants, according to ARInsights' ARchitect database.
Rival Experton was snapped up in March 2016 and fully integrated into sourcing advisor firm ISG in 2017, while TechConsult is today part of the Heise Gruppe publishing empire. Among the remaining independents are highly-regarded IT security-focused firm Kuppinger Cole and information supply chain-focused firm The Group of Analysts.
Dr. Stefan Ried, Principal Analyst & IoT Practice Lead at Crisp, says: "No other system integrator has a reputation in independent technology advisory. Crisp works in the automotive and industrial sectors to help customers find out what digital business and products they can run and then find the right technology stack, architecture. Now – if they want – we can even do the implementation and operations."
Our take
This is a big move for Crisp, which has established itself as a Tier One analyst firm for vendors thanks to its hands-on technology know-how combined with direct engagement with end customers. As a result of the deal, Crisp will drop its research into systems integrators while focusing on hot industry areas, including Cloud, IoT, AI, and machine learning.
If you'd like to talk about how the deal will impact your AR program, contact us.