Gartner tunes up Peer Insights methodology, claims growing vendor interest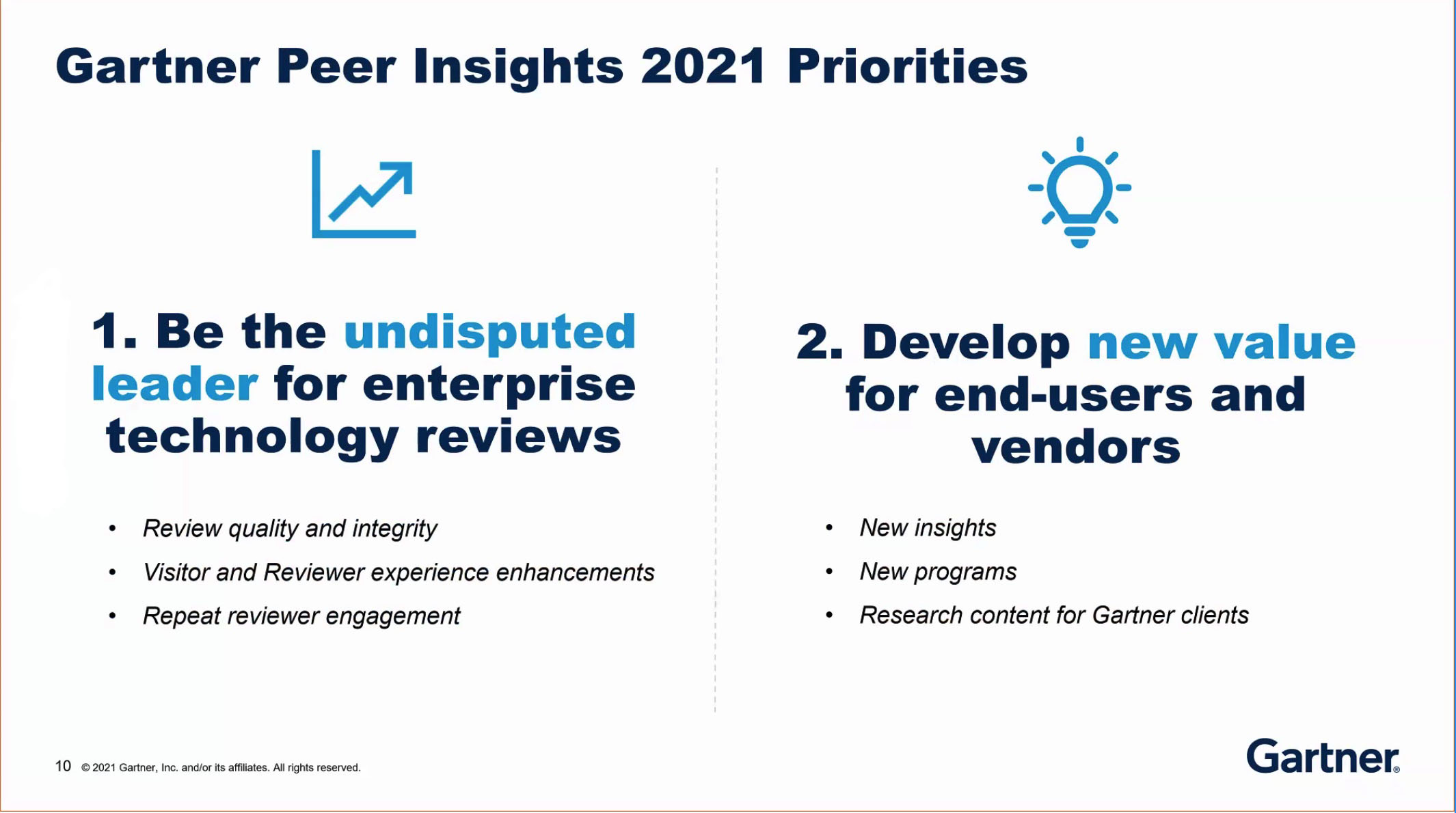 In a regular methodology update, Gartner Peer Insights chief Anatoli Olkhovets outlined growing vendor engagement and outlined the latest tweaks to its methodology.
Changes are relatively minor but place more of an obligation on vendors to keep on sourcing new reviews – or persuade existing reviewers to update older input. In line with emerging industry standards, as noted by Olkhovets, Gartner's algorithms are also changing to "provide a better end-user experience and search engine view".
Gartner Peer Insights already ranks well on Google organic search. By changing the default from reviews written the past 12 months to an all-time view, Gartner hopes to rank even higher in search. But as they get older, reviews will have progressively less weight – losing half their weight in the algorithm at the one-year point and half again 12 months later.
Olkhovets also confirmed that Gartner's decision to shift all customer references to its Peer Insights enterprise peer reviews platform is directly impacting the way vendors ask their customers to provide endorsement as part of the Magic Quadrant process.
Gartner is also following the lead of rival TrustRadius by inviting vendors to signal their commitment to transparency in sourcing reviews, with the introduction of a new Customer First program badge. What's not clear is whether Gartner will change the scoring algorithm for registered vendors.
The voice of the customer has long been a cornerstone of any Magic Quadrant evaluation. Until mid-2020, analysts relied mainly on references supplied by vendors. Accelerated by the COVID-19 pandemic, Gartner pushed all customer references over to Peer Insights. During any MQ process, analysts are no longer allowed to accept reference customers provided directly by vendors.
This has three consequences:
Vendors must maintain a far larger pool of reference customers, per topic
Gartner's analysts are making more use of end-user inquiry calls to quiz buyers on vendor performance
The Peer Insights question "what could your vendor have done better" is becoming increasingly important
It could also explain why, according to Olkhovets, vendor sign-ups for the bi-annual Peer Insights methodology update more than doubled.
We're running a webinar to share a deeper analysis of the latest methodology updates to Gartner Peer Insights updates. Join Destrier and KCG on February 16 at 11am ET/10am Central/ 4pm GMT / 5pm CET. You can register here.
Gartner Peer Insights by the numbers, January 2021
370,000 reviews in 360 market categories

3900 vendors (14% up year-on-year)

11,600 enterprise products (10% up year-on-year)

3.5x unique pageviews on the Peer Insights Technology Provider Tool

2500 vendors have subscribed to receive personalized updates and alerts since the service was launched in July 2020