This is what enterprise peer review success looks like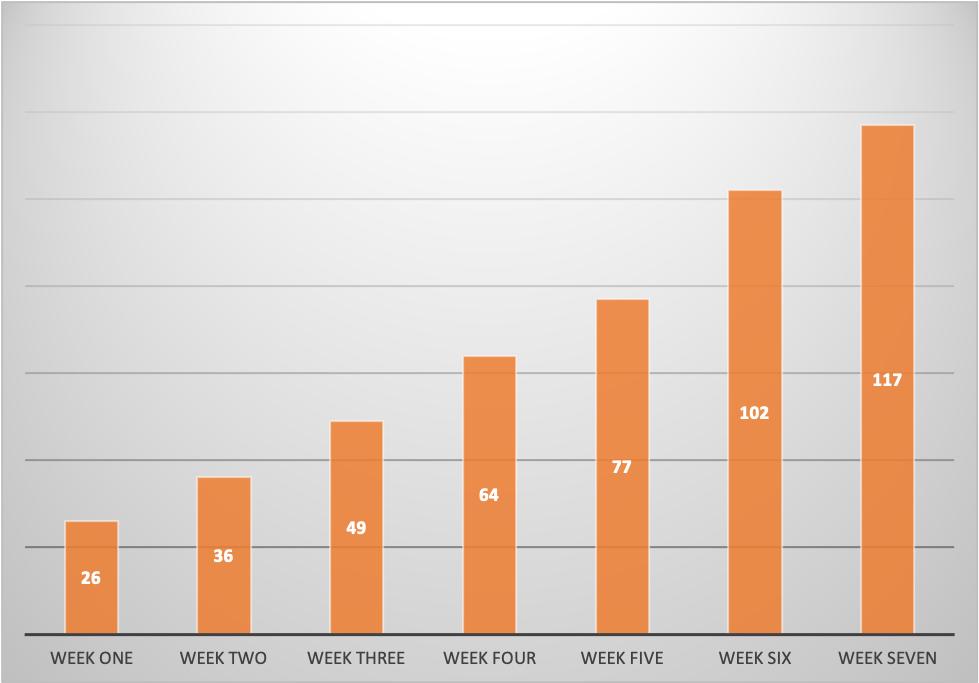 By Simon Jones at Destrier
When we start implementing enterprise peer review programs for clients, we're often challenged by skeptical executives, who ask: Show me what success looks like.
This is driven by a degree of doubt that the vendor "can ever catch up" with the leaders on an enterprise peer review site like G2 or Gartner Peer Insights, when rivals may have 50 or more reviews.
Lots has been written about why peer reviews are an essential part of the buying cycle for enterprises, less about how it's done.
So, here's a case study in what success looks like for a Destrier client that went from fourth position to outright leadership in a reviews category on Gartner Peer Insights and has now established a commanding lead – generating more than 100 high-quality reviews from enterprise customers. All this in just six weeks flat.
Back in mid-November, our client was ready to kick off its first-ever enterprise peer reviews program. But there were still a few obstacles to overcome – mainly the concern about over-burdening customers.
We often come up against this in introducing a peer reviews program. That's understandable: It is daunting to stare up at the category leaders, with their tens of reviews – especially for vendors that have only ever scored a handful of reviews since their market category was added to Gartner Peer Insights.
Destrier's peer review team drove the moonshot
Following an intense phase of preparation for the moonshot (modesty and trade secrets mean I'll skip the detail), in mid-November, the Destrier team got the green light to formally launch our client's first-ever enterprise peer reviews program.
Our diligence in preparation ensured that all involved in the initiative went into the program with their eyes open wide – including C-level management. To help quantify our program, we set stretch goals, aiming to be category leader on Gartner Peer Insights by a specific date in 2021.
An eerie silence followed the launch, just like an actual moonshot. We knew customers were being approached to write reviews, but Thanksgiving was coming, so would they even have time to respond?
Happily, after only a few days, we saw the first signs of an eruption – as the reviews dashboard started lighting up. We saw the first reviews go through moderation, sometimes at what we felt was an achingly slow pace. We also saw the occasional review vanish or go into the dreaded rejection pile, despite stringent safeguards and cautions we'd put in place to help ensure that all genuine reviews would see publication.
This is exactly what success looks like
We maintained a tracker, meaning that I can tell you exactly what success looks like. In the first week after go-live, we scored five new reviews on Gartner Peer Insights. It was an excellent start. And it kept getting better. In week two, we added 10 more. And in week three, we secured a further 13 – putting our client within a couple of reviews of the long-established category leader in review volume and level pegged on average approval rating.
By now, our CSMs were getting into their stride – fueled by their success – and had worked out a winning formula for approaching customers to write reviews. That's how we added another 15 reviews in week four, 13 more in Thanksgiving week, then a further 25 reviews the following week, when all the queued reviews passed moderation. December saw us push beyond the 100 total, more than double the total of any other vendor in this category, as well as establishing a category-leading average approval rating of 4.6/5, or 92%. In Christmas week, we added a further 15 reviews and counting.
What's next? Start tapping into the wealth of new insights
It's a phenomenal success story. Nevertheless, our work is not yet done – in fact, we are only at the start. As well as providing a powerful endorsement from customers, the reviews have a wealth of insights and observations: incredibly useful for product managers and sales teams. Gartner has also recognized the power of these customer insights since it recently introduced a second productized report to come out of the Peer Insights program, Customer Lessons Learned.
Gartner Voice of the Customer reports are "synthesized insight from our reviews to complement the analyst perspective, in a format they could easily consume and share with their investment committees". The new Gartner Customer Lessons Learned series aggregates insights from enterprise buyers, as reported in Peer Insights, to provide a complementary research stream to its analyst opinion.
More than 100 new reference quotes from customers
The enterprise peer reviews program has also been a windfall for our client's marketing team. We gathered more than 100 new endorsement quotes from customers in just six weeks. Many are so good that it's a challenging (but very enjoyable) task of selecting the cream of the crop for our weekly reporting.
In the new year, our client will take a deeper dive into the insights shared by customers. Forward-thinking vendors are mining this feedback for product improvement and an opportunity to focus more on elements of a solution that customers clearly love the most.
And once the euphoric initial round of reviews starts slowing, we'll be focusing on keeping up a steady stream of new reviews through the year. Effectively, reviews have a 12-month shelf life but can be updated by reviewers.
For this vendor, there's also the possibility that a Magic Quadrant may launch in 2021. Since all analyst references for MQs are now concentrated on Peer Insights, our client is in the strongest possible starting position.
If you're staring up at the mountain, talk to Destrier. We can ensure that you catch up with the competition and guide you to a commanding lead. Time to think about your peer reviews success story.