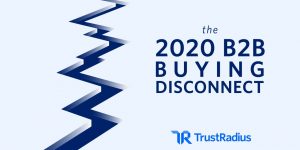 New research published today by leading peer review site TrustRadius underlines how vendors are missing the mark when it comes to targeting enterprise buyers.
By misjudging the impact of consensus decision-making and over-focusing on the divide and conquer strategy, many vendors are on the wrong track when it comes to developing strategies to manage their brands on peer review sites. And this means wasted investments in attempts to guide buying decisions.
As peer review sites continue to gain traction in terms of influencing and guiding enterprise buyers, the latest edition of TrustRadius' annual buyer survey, "the 2020 B2B Buying Disconnect" is sobering reading for marketers. The report, published today, shows that tech vendors are often out of touch with how enterprises buy services and software.
As expected from an enterprise peer review site, TrustRadius is keen to underline how third-party reviews have become one of the most influential sources of information for buyers.
TrustRadius says "more vendors now use reviews than invest in analyst rankings & reports". It hawkishly adds that although analysts are high-effort for vendors to work with and yield mixed-to-positive results, they are "perceived as necessary". However, for buyers, it's somewhat of a different story.
In a pre-publication briefing with Destrier, TrustRadius Research Manager Emily Sue Tomac said 52% of buyers use reviews, while only 24% (can afford to) access analyst reports. As well as underlining that most buyers trust reviews and analysts (equal pegging at 86%), TrustRadius' findings show review sites edging slightly ahead in terms of buyer influence (78% vs 77%). However, this tracks the influence of analyst reports, and not the "black box" advisory provided to enterprise buyers by firms like Gartner, Forrester and 451 Research.
For buyers, product demos are the most-popular information source (61%) with vendor websites in second place at 56% and user reviews coming in third, at 47%. Trailing in last pace, behind mechanisms like free trials, forums, analyst rankings (just 24%) and solution consultants, is the vendor blog, used by only 10% of buyers.
When it comes to vendor strategies, most are focused on generating leads (51%), customer references (51%), or social proof for their website/landing pages (50%), according to data from the new report. But most marketing efforts are surprisingly simple, with only 20% of vendors focusing on buyer intent data. Measuring Net Promoter Score (NPS) also lags at 17%, while retargeting is at 14%.
Regarding the decision to invest marketing budget with third-party review sites, 35% more vendors have engaged with review sites since last year (58% against last year's 43%). In terms of spend, vendors are split across a wide range – with one in five enterprises still to spend their first dollar. At the other end of the scale, 7% of vendors spend between $101,000 and $500k a year and 3% have budgets of $500k-plus.
Our take: Whether you're one of the 21% of vendors who have yet to make a move when it comes to engaging with peer review sites, or an experienced vendor, there's a ton of valuable information and advice for marketers in the 64-page TrustRadius report.
For further advice in understanding and managing enterprise peer reviews, Destrier's new playbook for CMOs is a great starting point, providing a step-by-step guide and an unrivaled amount of relevant data. Enterprise Peer Reviews: A Playbook for Vendors, is available to order immediately. There's more info on our Playbook website, PeerReviewsPlaybook.com.