By Simon Jones at Destrier
Enterprise peer review sites are rapidly creating new value for marketers – and this will intensify in 2020. Compelling customer engagement opportunities are coming from the main four enterprise review sites – G2, Gartner Peer Insights, IT Central Station, and TrustRadius.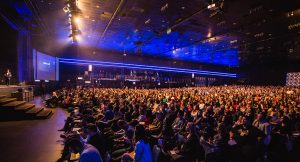 In fact, we expect marketing funding for review site programs to displace spend on PR programs. It's another blow to the media relations model for PR firms, already seeing their share of spend eroded by social media.
Here's why: When they can get to the same results via alternative channels, CMOs will start questioning the value of PR retainers. The goal is still about scoring quotable quotes to add that sweet smell of third-party endorsement to the top of the sales funnel.
The rise of peer review sites for enterprise technology and services is disrupting the "earned media" category – always the most highly regarded: It represents independent, third-party coverage, and very occasionally, actual recommendation (if you're getting a *lot* of media recommendations, either your brand is on fire, or your PR firm might not be telling you the truth).
Enterprise peer reviews are a new form of earned coverage. Reviews have enjoyed an inexorable rise. Between them, the top sites have consolidated review inventories that now surpass one million reviews from enterprise buyers and users. In fact, G2 has one million of its own – but this also includes products and services focused on more small and mid-size businesses.
One of the big four is watching the arms race on numbers from the sidelines. IT Central Station offers some very credible reasons why it is not joining in – but with numbers so huge, inventory is inevitably becoming an increasingly important weighting.
How enterprise peer review sites will disrupt the media in 2020: Third-party licensing is how enterprise peer review sites will cause further disruption to the media in 2020. Sites are syndicating their real-world user reviews and rankings. Stories in leading tech media related to vendors, applications and solutions are backed by vendor rankings, pulled directly from the review sites in real-time.
This battle will heat up in early 2020. Today, IT Central Station has tie-ups with major publishing houses, including Informa-UBM, IDG, InfoWorld, CIO.com, Ziff Davis, and QuinStreet/eWEEK; G2 is in league with CDW, ZDNet, TechRepublic, and Crunchbase. Although we expect that some of these alliances may change soon, IT Central Station has the edge today, as it provides white-label reviews to the Amazon AWS Marketplace.
This means enterprise review sites are a credible competitor to PR firms. CMOs recognize a new source for that all-so-valuable third-party coverage … which until now, was available mainly via the media.
Media are amplifiers of "the message". Publications filter vendor claims (show me one who isn't the "leader" in something or other), add a pinch of salt and publish articles read by the masses … including vendors' target audiences.
A great new source of quotable quotes: Getting customer endorsement quotes has always been a headache for marketers. Enterprise review sites are delivering these on a plate. It's increasingly difficult for corporate comms teams to maintain their position as the ultimate arbiter of whether or not a quote would be published. The floodgates are wide open and corporate comms teams still trying to maintain control are being swept away.
In summary, it's now possible to get the same – and perhaps better results – from spending marketing dollars on a peer reviews program instead of PR. Focus on helping customers to write reviews online, during trade shows, and at your own events. As the number of enterprise reviews grows, you can be assured your closest rivals will be doing the same.
Destrier's Enterprise Peer Reviews: A Playbook for Vendors is the definitive guide for CMOs in understanding and mastering peer reviews. It outlines plays for beginners and experienced vendors alike and includes case studies and the industry's definitive database of facts and figures relating to the enterprise reviews business.
What's more, Destrier runs outsourced peer review programs and provides advisory for vendors. If you'd like to get to grips with the hottest topic in 2020, start by getting in touch.