The approaches technology vendors are using to sharpen their sales tactics – by weaponizing reviews – is one of the most fascinating areas to emerge from our research into Enterprise Peer Reviews: A Playbook for Vendors.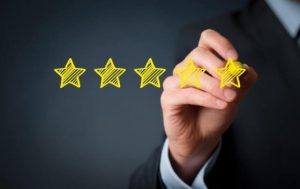 Our playbook, the definitive guide for CMOs in understanding the growing influence of review sites on enterprise sales, outlines the weaponizing strategies that vendors have started using. There are several factors at play here:
It's easily possible to stand up a product or service reviews campaign in a month – and even to feature on a "quadrant" graphic – that at first glance, might look similar to a Gartner Magic Quadrant (at least in terms of keeping the C-suite happy, with shiny things where the company's logo is in the top right corner of the chart)
That's a good starting point, because many enterprise buyers have been conditioned to think that the best place for a vendor to be is in the top right of any quadrant
Although they may look similar, graphics like the G2 Grid and TrustRadius Trustmap are very different to the Gartner MQ. The horizontal axis on the TrustRadius chart is "research frequency", which is a world away from Gartner's "completeness of vision"
For competitive selling, review sites are a gold mine – making it easier than ever to probe a rival's weaknesses
Review sites are spearheading the popularity of social listening. Reviews are also a great early warning system for product managers. If a solution isn't performing, your users will be complaining about it via reviews pretty quickly …
These are some of the compelling reasons why vendors should be paying attention to enterprise peer review sites: there's more in the playbook.
The Peer Reviews Playbook has received praise from the enterprise review sites themselves. G2 VP Applications Research Robert Mahowald says: "The enormous tumult in how business technology is built, provisioned, and sold means the old models for advising IT makers and sellers must also change. Destrier provides a valuable, balanced roadmap for marketers and CMOs to navigate this changing world."
And Russell Rothstein, founder and CEO at IT Central Station comments: "The Playbook provides an invaluable, balanced guide for marketers and CMOs in navigating this new and important world of peer reviews."
More information about the Playbook is here.